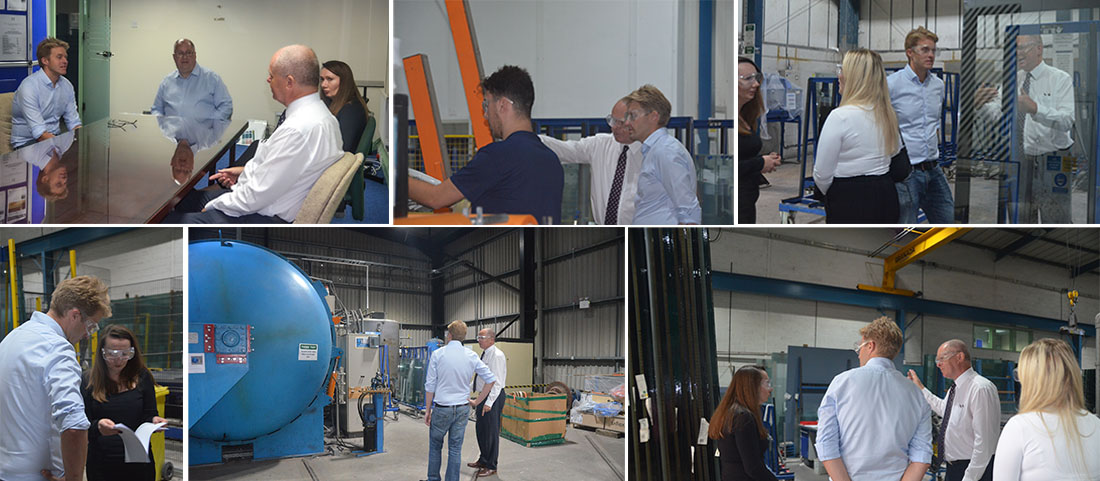 11 Oct

National Manufacturing Day 2023

On 28th September, Kite Glass hosted a visit organised by the Manufacturers' Organisation, Make UK, for Dr. Ben Spencer, our local Conservative MP for Runnymede and Weybridge. The meeting was for Dr. Spencer to find out about Kite Glass, our specialist laminated glass products and employment opportunities for young people. As part of the visit, Dr. Spencer participated in a discussion about some of the issues we, along with others in the industry, are facing in today's inflationary and challenging labour market.

Welcoming Dr. Spencer and Lois Peraud, National Partnership Manager at Make UK, to the Kite Glass offices were Company Directors Alex Perkins, John Storr and Jana Zahradnikova. The visit started with the planned discussion in the Kite Glass Boardroom with local MP, Dr. Spencer particularly interested in employment opportunities for young people. This subject was also of interest with Lois Peraud of Make UK, focusing on the importance of employment for the young as part of the celebrations for Make UK's National Manufacturing Day.Also, a key topic on the agenda was the rising costs of energy and raw materials and how they impact manufacturing and overhead budgets. Energy is of particular importance to Kite Glass, as we have high energy-consuming furnaces running 24/7.

With the discussion concluded, all parties moved to the factory for a production line tour. During the tour, Dr. Spencer spent time talking with some of the Kite Glass team who help to produce the company's specialist laminated glass products and saw first-hand, how the various processes are undertaken to manufacture premium quality laminated glass.

In concluding the meeting and tour, which lasted an hour and a half, Alex Perkins thanked Dr. Spencer and Lois Peraud for taking the time to visit and learn about us, with all parties agreeing that the visit was both productive and informative for all.